Press Releases
GDS Announces Strategic Partnership and $100 Million Equity Investment from CyrusOne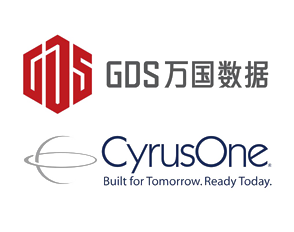 GDS Holdings Limited ("GDS Holdings", "GDS" or the "Company") (NASDAQ:GDS), a leading developer and operator of high-performance data centers in China, today announced that it has formed a new strategic partnership with CyrusOne Inc. ("CyrusOne") (NASDAQ:CONE), a premier global data center REIT, through the execution of a commercial agreement. Furthermore, CyrusOne will make a $100 million equity investment in GDS that will be used by GDS to fund development projects across key markets to provide capacity to sustain its strong sales momentum.
Under the terms of the transaction, CyrusOne will purchase newly issued unregistered ordinary shares equivalent to 8.0 million American depository shares ("ADS") at a price per ordinary share equivalent to $12.45 per ADS, a 4% discount to the most recent closing price, for a total investment of $100 million. Each ADS is equivalent to eight ordinary shares. Following the equity investment, CyrusOne's ownership position in GDS issued share capital will be approximately 8%. In addition, CyrusOne President and Chief Executive Officer Gary Wojtaszek will join the GDS Board of Directors. Upon the consummation of the investment by CyrusOne, the Company has agreed to grant to STT GDC and SBCVC preemptive rights with respect to future private issuances of equity or equity-linked securities conducted by the Company anytime in the next eighteen months, whereby STT GDC and SBCVC will have the right to subscribe for pro rata portions of any such future offerings based on their current shareholdings.
This strategic investment and commercial agreement bring together a targeted focus on two large and fast-growing markets, the United States and China, creating synergies and efficiencies for both companies. The two companies will exchange best practices around sales and marketing, data center design and construction, supply chain management, customer relationship management, and operations, leveraging each other's core competencies to deliver a compelling and differentiated data center solution to their customers and assist in their global expansion.
"We are delighted to welcome CyrusOne as our strategic investor and to execute this commercial agreement," stated Mr. William Huang, Chairman and Chief Executive Officer of GDS Holdings. "Our customer base includes the largest hyperscale companies in China, and this investment is a meaningful source of capital to fund development for our growing pipeline of demand. CyrusOne has nearly 1,000 customers and extended relationships in the US market. This partnership will help us get access to their large customer base and enhance our sales to their US-based customers who have operations in, or would like to expand to China."
Mr. William Huang further stated, "We have a very successful on-going partnership with our major shareholder, STT GDC, which is strongly positioned in the strategically important Singapore and London data center markets and is the clear market leader in India. The addition of our partnership with CyrusOne creates a platform for providing solutions for customers in China and across the most important Tier 1 markets in Asia, the US and Europe which is a unique value proposition highly relevant to today's customer requirements."
Gary Wojtaszek, President and Chief Executive Officer of CyrusOne, said, "This strategic partnership provides a compelling value proposition for both companies' customer bases as the enhanced collective capabilities of CyrusOne and GDS will enable them to meet their data center resource needs in the world's two largest centers of economic activity. We are excited about our investment in GDS and this partnership between two of the fastest-growing data center companies and recognized leaders in serving the hyperscale and enterprise markets in the United States and China."
CyrusOne Overview
CyrusOne has developed and operated data centers for more than 17 years and is a market leader in the United States. The company has 40 data centers totaling 2.6 million colocation square feet located in Austin, Chicago, Cincinnati, Dallas, Houston, London, New York Metro, Northern Virginia, Phoenix, Raleigh-Durham, San Antonio and Singapore. CyrusOne has nearly 1,000 customers, including 190 Fortune 1000 customers and almost every leading cloud company in the U.S. Revenue and Adjusted EBITDA grew by 28% and 30%, respectively, in the second quarter of 2017 compared to the same period in 2016.
Legal and Financial Advisors
RBC Capital Markets acted as financial advisor and sole placement agent to GDS in connection with the $100 million private placement of equity and Simpson Thacher & Bartlett LLP served as legal counsel. J.P. Morgan acted as financial advisor to CyrusOne and Sullivan & Cromwell LLP served as legal counsel.