Press Releases
GDS Partners with SDIC, China Unicom, and China Telecom for Data Center Development in Upcoming Markets in China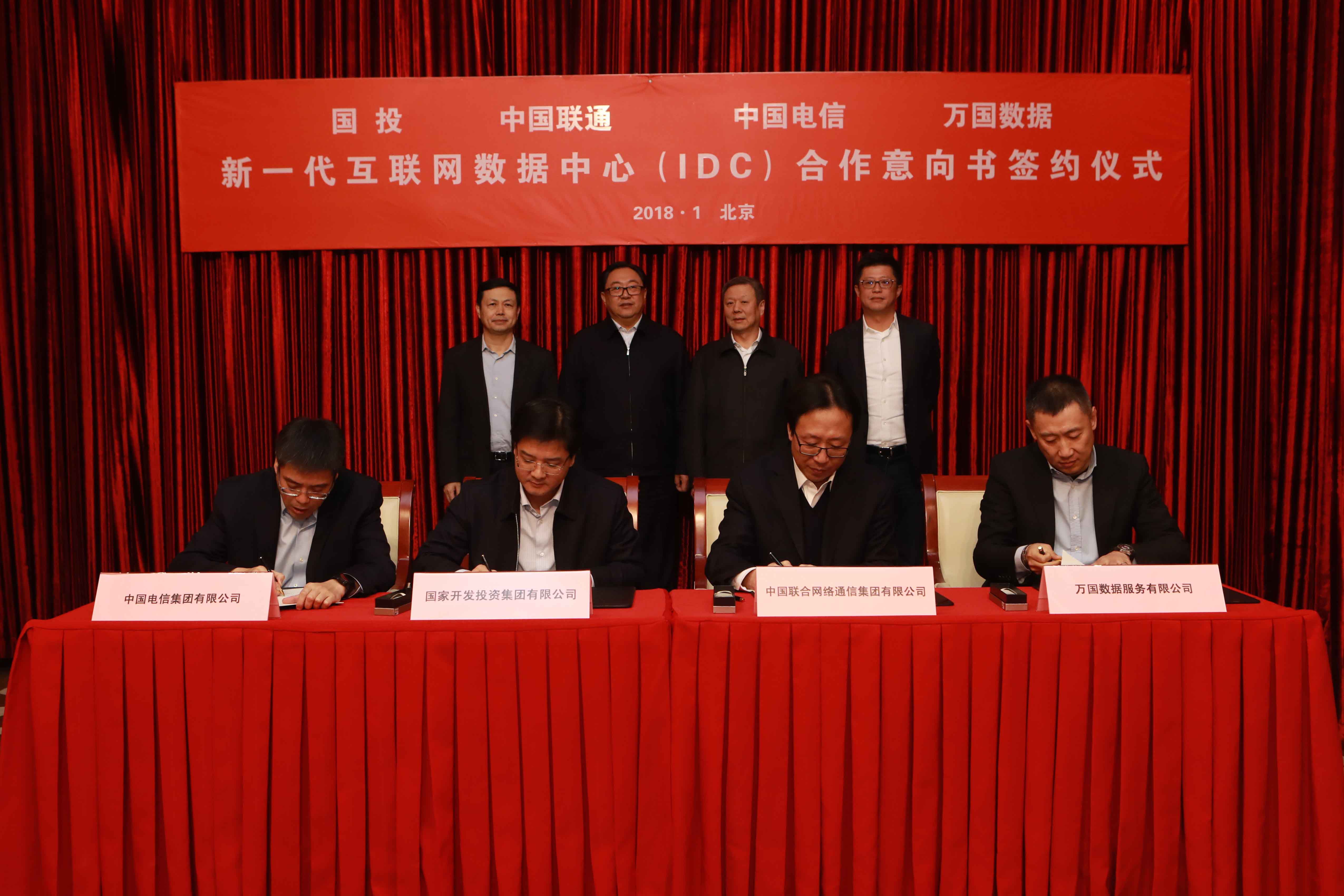 GDS Partners with SDIC, China Unicom, and China Telecom for Data Center Development in Upcoming Markets in China
GDS Holdings Limited ("GDS Holdings", "GDS" or the "Company") (NASDAQ: GDS), a leading developer and operator of high-performance data centers in China, today announced that it has entered into a non-binding Letter of Intent ("LoI") with State Development Investment Corporation ("SDIC"), the largest state-owned investment holding company in China, China United Network Communications Corporation Limited ("China Unicom"), and China Telecommunications Corporation Limited ("China Telecom") for the joint development of data centers in selected upcoming markets in China. The signing ceremony in Beijing was attended by Mr. Huisheng Wang, Chairman of SDIC, Mr. Xiaochu Wang, Chairman of China Unicom, Mr. Jie Yang, Chairman of China Telecom, and Mr. William Huang, Chairman of GDS.
The LoI reflects the shared view of the four parties that the growth of the digital economy in China is creating unfilled demand for high standard, large-scale data center infrastructure and services in selected upcoming markets beyond the core markets where GDS is currently operating. The partners will prioritize an initial pilot project in the Tianjin market. Details of the cooperation arrangements contemplated by the LoI are subject to further definitive legal agreement by the four parties.
"We are honored to participate in this LoI with these leading state-owned enterprises," stated Mr. William Huang, Chairman and Chief Executive Officer of GDS. "As the only private sector company in the consortium, our participation evidences the expertise and market leadership we've established over our 17-year operating history. This partnership combines GDS strengths in data center design, construction, operations and customer service with the complimentary capabilities resources, and relationships of the other parties. As we realize synergies together, we look forward to working alongside our distinguished partners to explore potential opportunities within the government and state-owned enterprise segments and to further strengthen our brand and market leading position."
Safe Harbor
This announcement contains forward-looking statements. These statements are made under the "safe harbor" provisions of the U.S. Private Securities Litigation Reform Act of 1995. These forward-looking statements can be identified by terminology such as "aim," "anticipate," "believe," "continue," "estimate," "expect," "future," "guidance," "intend," "is/are likely to," "may," "ongoing," "plan," "potential," "target," "will," and similar statements. Among other things, statements that are not historical facts, including statements about GDS Holdings' beliefs and expectations regarding the growth of its businesses and its revenue outlook, the business outlook and quotations from management in this announcement, as well as GDS Holdings' strategic and operational plans, are or contain forward-looking statements. GDS Holdings may also make written or oral forward-looking statements in its periodic reports to the U.S. Securities and Exchange Commission (the "SEC") on Forms 20-F and 6-K, in its annual report to shareholders, in press releases and other written materials and in oral statements made by its officers, directors or employees to third parties. Forward-looking statements involve inherent risks and uncertainties. A number of factors could cause GDS Holdings' actual results or financial performance to differ materially from those contained in any forward-looking statement, including but not limited to the following: GDS Holdings' goals and strategies; GDS Holdings' future business development, financial condition and results of operations; the expected growth of the market for high-performance data centers, data center solutions and related services in China; GDS Holdings' expectations regarding demand for and market acceptance of its high-performance data centers, data center solutions and related services; GDS Holdings' expectations regarding building, strengthening and maintaining its relationships with new and existing customers; the continued adoption of cloud computing and cloud service providers in China; risks and uncertainties associated with increased investments in GDS Holdings' business and new data center initiatives; risks and uncertainties associated with strategic acquisitions and investments; GDS Holdings' ability to maintain or grow its revenue or business; fluctuations in GDS Holdings' operating results; changes in laws, regulations and regulatory environment that affect GDS Holdings' business operations; competition in GDS Holdings' industry in China; security breaches; power outages; and fluctuations in general economic and business conditions in China and globally and assumptions underlying or related to any of the foregoing. Further information regarding these and other risks, uncertainties or factors is included in the GDS Holdings' filings with the SEC, including its registration statement on Form F-1, as amended. All information provided in this press release is as of the date of this press release and are based on assumptions that GDS Holdings believes to be reasonable as of such date, and GDS Holdings does not undertake any obligation to update any forward-looking statement, except as required under applicable law.