Press Releases
GDS Construction—An "Iron Force" in A Dedicated Fight against the Epidemic
No one knows in advance when a crisis will occur—the novel coronavirus epidemic is a perfect example. But when one does arrive, how should we protect against potential risk and maintain growth momentum? In GDS, a strong team has risen to the challenge, using its initiative to keep the company worry-free and the customer satisfied.
They are an "Iron Force" practicing "GDS Rapid Action".
Behind their successful delivery is their unrelenting hard work. Whether in sweltering summer or freezing winter, under scorching sun or pouring rain, they have stuck to their posts at the frontline of their projects, working together under a common belief, rising to any challenge that may arise. It is they who have built the many GDS T3+ data centers around China, laying a solid foundation for the company to expand its overall strategic growth.
In the face of the raging coronavirus epidemic, they have continued to be the Iron Force they have always been by actively fighting the epidemic for work safety. The GDS construction teams, since the outbreak of the epidemic, have meticulously assigned epidemic prevention and control (P&C) responsibilities, controlled construction progress, developed management systems, and ensured the implementation of P&C measures. A few brief stories of events during the epidemic will suffice to testify to the "Spirit of the Iron Force".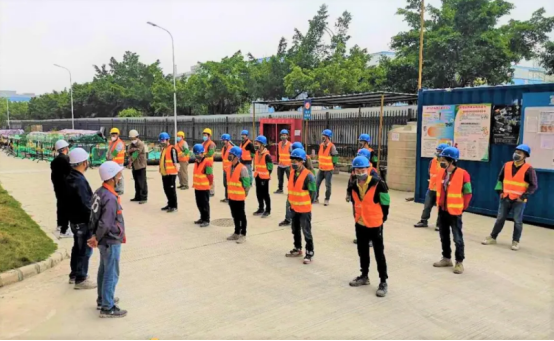 01 Logistics First—Spare no effort to obtain protective materials despite heavy fog
On New Year's Eve, when everyone was home enjoying their family reunion, colleagues of GDS Construction Management Team were more concerned about the safety of the frontline construction workers. Since the outbreak of the epidemic, sourcing anti-epidemic materials has become a top priority—any lack of these can mean serious exposure to danger. The Construction Management Team has tried every way and channel possible to identify vendors and source materials. So on hearing that some materials needed to be picked up as they would soon be placed under government control, the team immediately sent some staff on the road, even though the National Meteorological Centre had already released a yellow heavy fog alert.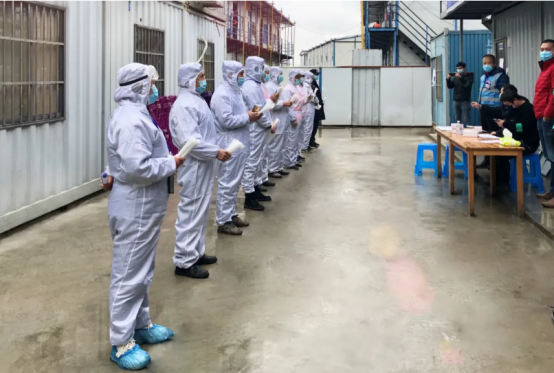 In the small hours of the 24th, the fog outside the car window became heavier, with visibility falling lower and lower. Eventually all stretches of the motorway had to be closed off. The truck had to take a side road on which the traffic was fortunately very light due to the epidemic. But to be on the safe side, the driver still drove carefully, maintaining a safe distance with all emergency flashers. One day, four provinces, and a 2000 km round trip later, the construction management team had successfully delivered a truckload of protective materials including medical face masks, disinfectant and Lianhua Qingwen Capsules.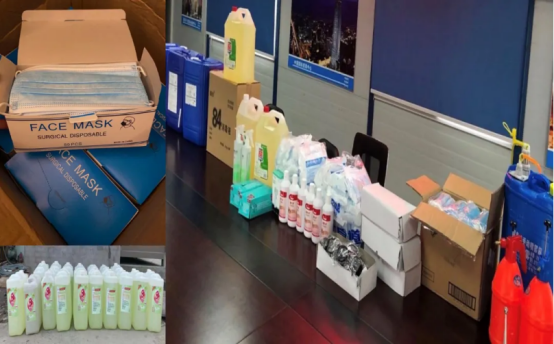 Having made sure that our own epidemic prevention needs were met, GDS has also made its contribution to local epidemic P&C efforts by donating 3000 medical-grade masks to the local Red Cross Society.
02 Complete Protection, Considerate Care—Make the workers feel the warmth of a family during the special period
In view of the dire situation in the CoVid-19 epidemic, and to reduce the likelihood of workers contracting the virus during their commute, GDS Construction Management Team decided to encourage construction workers not to go home for Chinese New Year to avoid possible exposure, and locked down all GDS construction sites. Soon, the administrative staff of the sites were busier than ever before.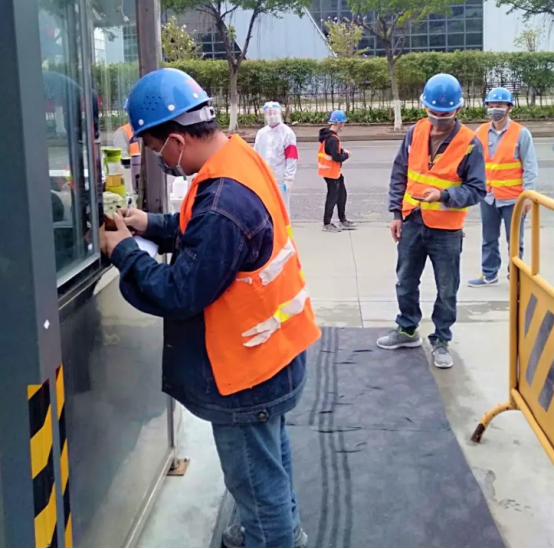 First, they needed to provide food and accommodation for the workers who had stayed on site during the Chinese New Year, and supply them with daily necessities and anti-epidemic materials. Second, they had to implement strict sanitary anti-epidemic measures, and invite anti-epidemic authorities to perform nucleic acid tests on all workers (all of which have proved negative). In addition, they had to completely disinfect the living quarters of the sites every day, take the workers' temperatures twice daily, and ensure they maintained a one-meter distance while eating. From morning to evening, the site administrative team were always on the move, and the number of steps they walked always topped the charts in their WeRun Ranking .
Once the government had issued the notice requesting a return to work, they arranged for vehicles to travel hundreds of kilometers to those counties or cities with a high concentration of our workers, in order to transport them directly back to sites. This seamless "home-vehicle-post" transport ensured maximum protection for workers during their journey and gave them a sense of wellbeing. Once back on site, the workers were quarantined as per the government's requirements with their temperatures taken daily and nucleic acid tests performed to achieve "zero suspected and confirmed cases", ensuring that all GDS constructions can be carried out according to schedule.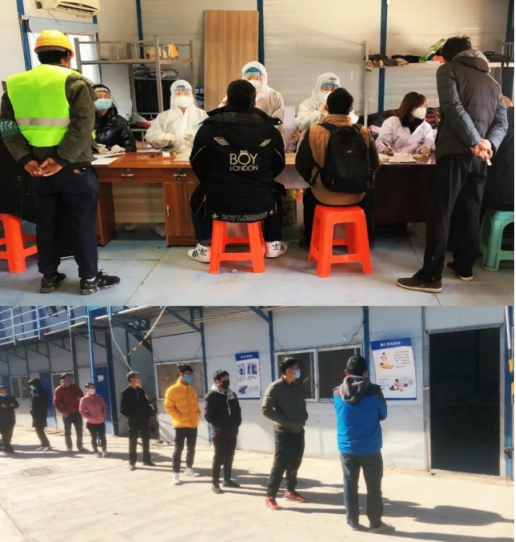 GDS is now actively responding to the government's return-to-work request by steadily resuming construction operations. Some customers with customized projects have raved over a response from GDS construction teams that has exceeded all expectations— describing GDS's efficiency as "one miracle after another" in their thank-you letters to GDS Project Management Office.
This is indeed a team that has created miracles.
In less than two years , from 2017 to end of 2019, GDS construction team retrofitted and built over 20 data centers with a total gross floor area of close to 500,000 sqms.
Through long-term experience on the frontline, GDS Construction Management Team has grown into an Iron Force with superior "fighting power" and efficient execution capability that excels in handling major projects. "GDS Rapid Action" has established our prestige in the industry, winning huge appreciation for the company from its customers, and turning many seemingly impossible construction objectives into reality through systematic and multi-dimensional management.
The epidemic has not passed, but construction must be accelerated. In addition to 10+ data centers that are under construction, more will be started in 2020. GDS Construction Management Team will continue to embrace the Iron Force spirit and lay a solid foundation for the company's efforts, supporting new IT infrastructure construction by resolutely confronting any challenge that comes its way.