Press Releases
GDS Supports New Infrastructure Construction on the Yangtze Delta with RMB 5 Bn Line of Credit from SRCB
GDS entered into a strategic cooperation with Shanghai Rural Commercial Bank (SRCB) today. According to the agreement, in the next five years SRCB will extend to GDS a line of credit of RMB 5 billion to support GDS's efforts to drive its growth in the Yangtze Delta region and increase its investment in New Infrastructure Construction. The two parties will also leverage their respective strengths to engage in in-depth cooperation across a range of areas including asset management and financial services.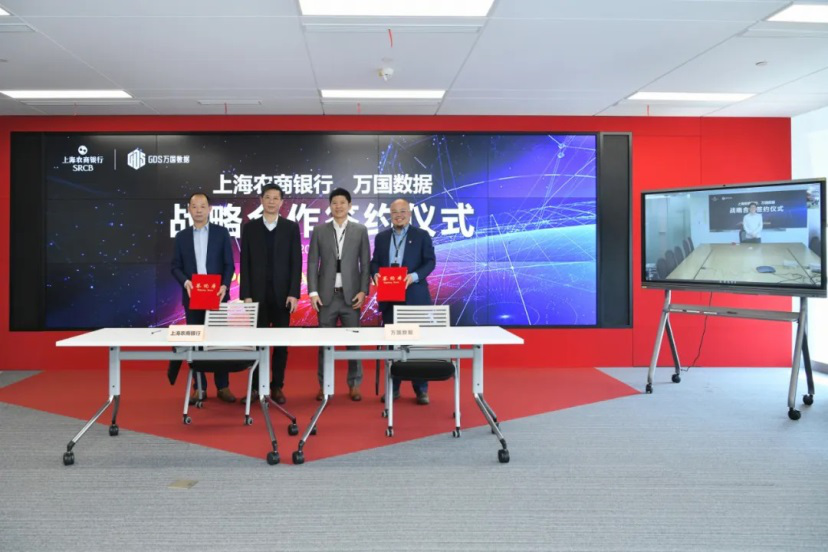 Left to right: Yu Gang, General Manager of Finance Department at SRCB, Yang Yuanjun, President of Pudong Branch, SRCB, Long Musheng, Deputy CFO at GDS, and Wang Anyu, VP Finance at GDS, attended the signing ceremony.
"With a data center portfolio that covers all the major economic hubs of China, GDS is more than happy to cooperate with local financial institutions," said William Huang, Chairman and CEO of GDS, "The SRCB partnership represents the first strategic cooperation with a local financial institution in Shanghai, and the second occasion on which GDS has acquired support from a local financial institution, after it received a RMB 5 Bn line of credit from China CITIC Bank Suzhou Branch and CITIC Financial Leasing in 2019. It is of special value for our regional growth."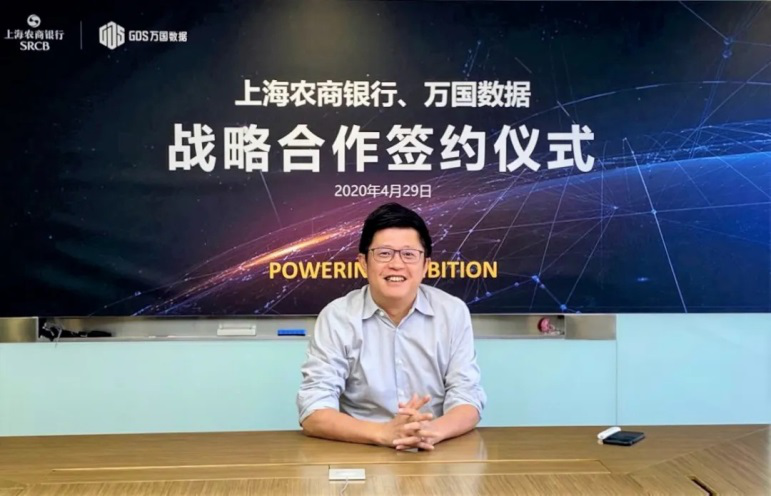 William Huang, Chairman and CEO of GDS, witnessed the signing via cloud video
With the integrated development of the Yangtze Delta having been elevated to a national strategy, the region is accelerating the construction of new generation information infrastructure while driving a digital Yangtze Delta. As an important part of IT infrastructure supporting the digital economy, data centers have become a critical component of New Infrastructure Construction. In East China, one of the regions on which the company intends to focus, GDS has developed a data center network centered around Shanghai, with Kunshan as a backup, to cover the region's major economic areas while leveraging its new generation cloud-network combined data center platform, to create a data channel among the major cities in the region and throughout China.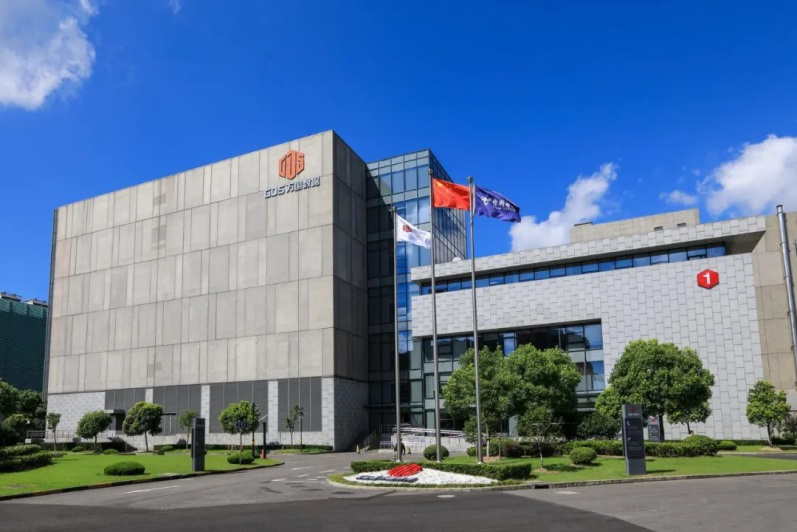 While support from local financial institutions is playing a unique role in driving the region's development, GDS will continue to further strengthen its presence in the China market in sync with the progress of New Infrastructure Construction. The line of credit has reinforced GDS's capital position to help it continue to drive the development of data centers in the favorable policy environment of New Infrastructure Construction and Yangtze Delta Integration. It will also drive the robust growth of the local digital economy and the adjustment, transformation and upgrading of the region's industrial structure.
About Shanghai Rural Commercial Bank Co., Ltd.:
Founded on August 25, 2005 as a state-controlled legal person bank headquartered in Shanghai, Shanghai Rural Commercial Bank was the first provincial-level joint stock commercial bank in China to be incorporated as a result of restructuring a rural credit cooperative. The bank currently has total assets of RMB 930 billion, approx. 370 outlets, and a workforce of over 6,000.
Safe Harbor Statement
This announcement contains forward-looking statements. These statements are made under the "safe harbor" provisions of the U.S. Private Securities Litigation Reform Act of 1995. These forward-looking statements can be identified by terminology such as "aim," "anticipate," "believe," "continue," "estimate," "expect," "future," "guidance," "intend," "is/are likely to," "may," "ongoing," "plan," "potential," "target," "will," and similar statements.
Among other things, statements that are not historical facts, including statements about GDS Holdings' beliefs and expectations regarding the growth of its businesses and its revenue for the full fiscal year, the business outlook and quotations from management in this announcement, and GDS Holdings' strategic and operational plans, are or contain forward looking statements. GDS Holdings may also make written or oral forward-looking statements in its periodic reports to the U.S. Securities and Exchange Commission (the "SEC") on Forms 20-F and 6-K, in its annual report to shareholders, in press releases and other written materials, and in oral statements made by its officers, directors or employees to third parties. Forward-looking statements involve inherent risks and uncertainties.
A number of factors could cause GDS Holdings' actual results or financial performance to differ materially from those contained in any forward-looking statement, including but not limited to the following: GDS Holdings' goals and strategies; GDS Holdings' future business development, financial condition and results of operations; the expected growth of the market for high performance data centers, data center solutions and related services in China; GDS Holdings' expectations regarding demand for and market acceptance of its high-performance data centers, data center solutions and related services; GDS Holdings' expectations regarding building, strengthening and maintaining its relationships with new and existing customers; the continued adoption of cloud computing and cloud service providers in China; risks and uncertainties associated with increased investments in GDS Holdings' business and new data center initiatives; risks and uncertainties associated with strategic acquisitions and investments; GDS Holdings' ability to maintain or grow its revenue or business; fluctuations in GDS Holdings' operating results; changes in laws, regulations and the regulatory environment that affect GDS Holdings' business operations; competition in GDS Holdings' industry in China; security breaches; power outages; fluctuations in general economic and business conditions in China; globally, the impact of COVID-19 outbreak; and assumptions underlying or related to any of the foregoing.
Further information regarding these and other risks, uncertainties or factors is included in the GDS Holdings' filings with the SEC, including its annual report on form 20-F. All information provided in this press release is as of the date of this press release and is based on assumptions that GDS Holdings believes to be reasonable as of such date. GDS Holdings does not undertake any obligation to update any forward-looking statement, except as required under applicable law.