Press Releases
GDS Enters into Comprehensive Strategic Cooperation with ICBC Tech to Explore New Market Opportunities
GDS has recently entered into a strategic cooperation with ICBC Tech Co. Ltd. The two parties will leverage their respective strengths based on existing solid cooperation and mutual trust to further strengthen their comprehensive cooperation in cloud service, data center hosting, operations services and information security. The goal is to tap the full development potential of the data center market and drive the New Infrastructure Construction initiative.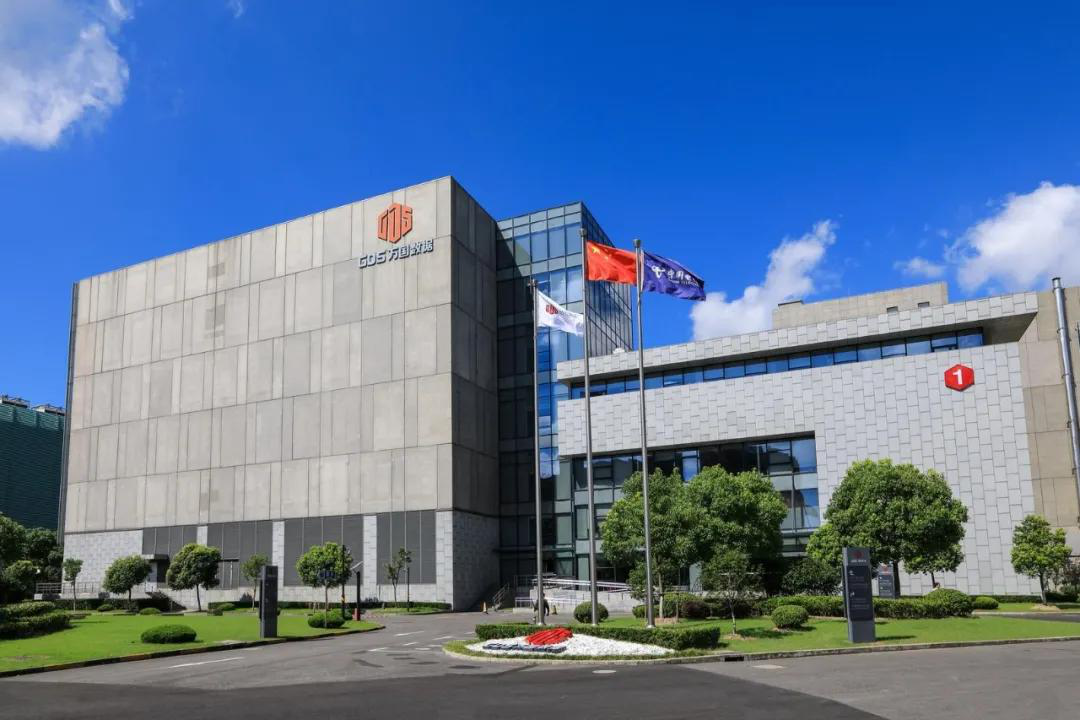 Through New Infrastructure Construction, GDS will leverage its data centers together with 20 years of experience in professional data center hosting and operations services, to help ICBC Tech further optimize and develop the underlying IT infrastructure of financial ecological clouds and expand its financial ecological SaaS business.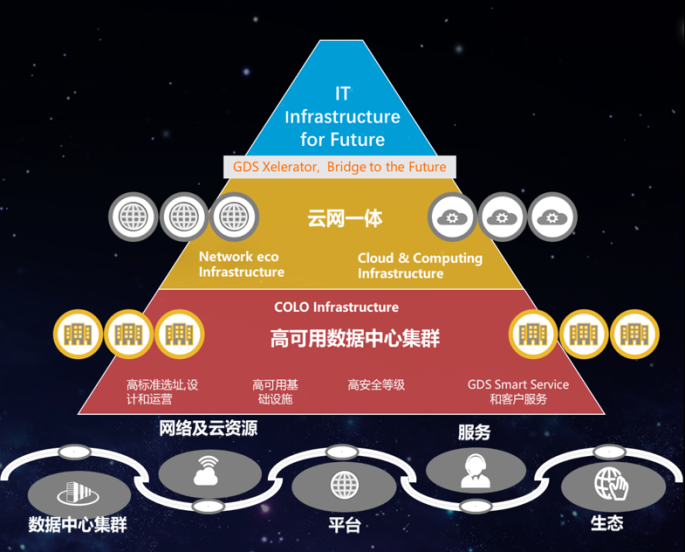 In return, GDS will take advantage of ICBC Tech's professional capabilities in development of financial business application systems and financial-level information security systems to provide customers with more comprehensive information security systems, value-added cyberattack prevention services, data center hosting, operations services and cloud-network convergence solutions. This will further enrich GDS's data center IT value chain and support its efforts to strengthen its regional presence, while helping ICBC Tech to expand its influence in the information security area.
Since 2017, ICBC and GDS have been engaged in successful project loan cooperation on a number of data center projects in the Yangtze Delta region. And in June this year, the ICBC Shanghai and Suzhou branches provided GDS with a RMB 6 billion line of credit to help GDS invest in New Infrastructure Construction and inject new momentum into the integrated high-quality growth of the Yangtze Delta region.
"Data centers are an important part of computing infrastructure in the New Infrastructure Construction initiative," says William Huang, Chairman and CEO of GDS. "They support the smart transformation and upgrading of all industries, including finance. Building on a solid foundation of cooperation with ICBC, GDS will use the partnership with ICBC Tech to leverage its experience accumulated over the years in the areas of data center cluster development, data center hosting and management cloud services. We will help ICBC Tech to enrich its end-to-end solutions for finance and government sectors and constantly improve its industry solution competitiveness, while strengthening the two parties' exchanges and complementarity in data center operation and disaster backup. Together we will create a more powerful synergy and jointly explore and grasp all of the new opportunities presented by our age."
About ICBC Tech Co., Ltd.
A wholly-owned subsidiary of Industrial and Commercial Bank of China, ICBC Tech Co. Ltd. was incorporated on May 8, 2019 with a registered capital of RMB 600 million. Headquartered in Xiongan New Area, Hebei with office premises in both Beijing and Xiongan, the company's operating philosophy is "serve society, co-build ecosystems, lead innovation, rally talent". Internally the goal is to enable ICBC's smart banking strategy and become an incubator and booster leading FinTech innovation; externally the goal is to enable industry customer business innovation to become a new momentum and new paradigm for development of a "finance + industry" ecosystem. With a business scope designed to provide ICBC's major customers with IT system R&D, financial business systems output, FinTech product and service output, and financial ecological SaaS cloud services, ICBC Tech currently offers three product lines - "Finance + Industry", "Finance + Technology", and "New Financial Ecosystem".
Safe Harbor Statement
This announcement contains forward-looking statements. These statements are made under the "safe harbor" provisions of the U.S. Private Securities Litigation Reform Act of 1995. These forward-looking statements can be identified by terminology such as "aim," "anticipate," "believe," "continue," "estimate," "expect," "future," "guidance," "intend," "is/are likely to," "may," "ongoing," "plan," "potential," "target," "will," and similar statements.
Among other things, statements that are not historical facts, including statements about GDS Holdings' beliefs and expectations regarding the growth of its businesses and its revenue for the full fiscal year, the business outlook and quotations from management in this announcement, and GDS Holdings' strategic and operational plans, are or contain forward looking statements. GDS Holdings may also make written or oral forward-looking statements in its periodic reports to the U.S. Securities and Exchange Commission (the "SEC") on Forms 20-F and 6-K, in its annual report to shareholders, in press releases and other written materials, and in oral statements made by its officers, directors or employees to third parties. Forward-looking statements involve inherent risks and uncertainties.
A number of factors could cause GDS Holdings' actual results or financial performance to differ materially from those contained in any forward-looking statement, including but not limited to the following: GDS Holdings' goals and strategies; GDS Holdings' future business development, financial condition and results of operations; the expected growth of the market for high performance data centers, data center solutions and related services in China; GDS Holdings' expectations regarding demand for and market acceptance of its high-performance data centers, data center solutions and related services; GDS Holdings' expectations regarding building, strengthening and maintaining its relationships with new and existing customers; the continued adoption of cloud computing and cloud service providers in China; risks and uncertainties associated with increased investments in GDS Holdings' business and new data center initiatives; risks and uncertainties associated with strategic acquisitions and investments; GDS Holdings' ability to maintain or grow its revenue or business; fluctuations in GDS Holdings' operating results; changes in laws, regulations and the regulatory environment that affect GDS Holdings' business operations; competition in GDS Holdings' industry in China; security breaches; power outages; fluctuations in general economic and business conditions in China; globally, the impact of COVID-19 outbreak; and assumptions underlying or related to any of the foregoing.
Further information regarding these and other risks, uncertainties or factors is included in the GDS Holdings' filings with the SEC, including its annual report on form 20-F. All information provided in this press release is as of the date of this press release and is based on assumptions that GDS Holdings believes to be reasonable as of such date. GDS Holdings does not undertake any obligation to update any forward-looking statement, except as required under applicable law.