Press Releases
China Telecom Management Visits GDS Shanghai Waigaoqiao Data Center Campus, Signals Intent of Strategic Cooperation
On August 21, 2020, Mr. Shao Guanglu, Deputy Secretary of the Party Leadership Group of China Telecom, led a group of eight members of the management teams of China Telecom and China Telecom Shanghai in a visit to GDS Shanghai Waigaoqiao Data Center Campus to meet with Mr. William Huang, Chairman and CEO of GDS, Ms. Qiu Yizhu, COO of GDS and heads of various business units of GDS. Having exchanged ideas on the status and developing trends of the data center industry, and on leveraging their respective strengths to strengthen diversified cooperation focused on cloud-network convergence business, the two parties signaled their intention to engage in strategic cooperation.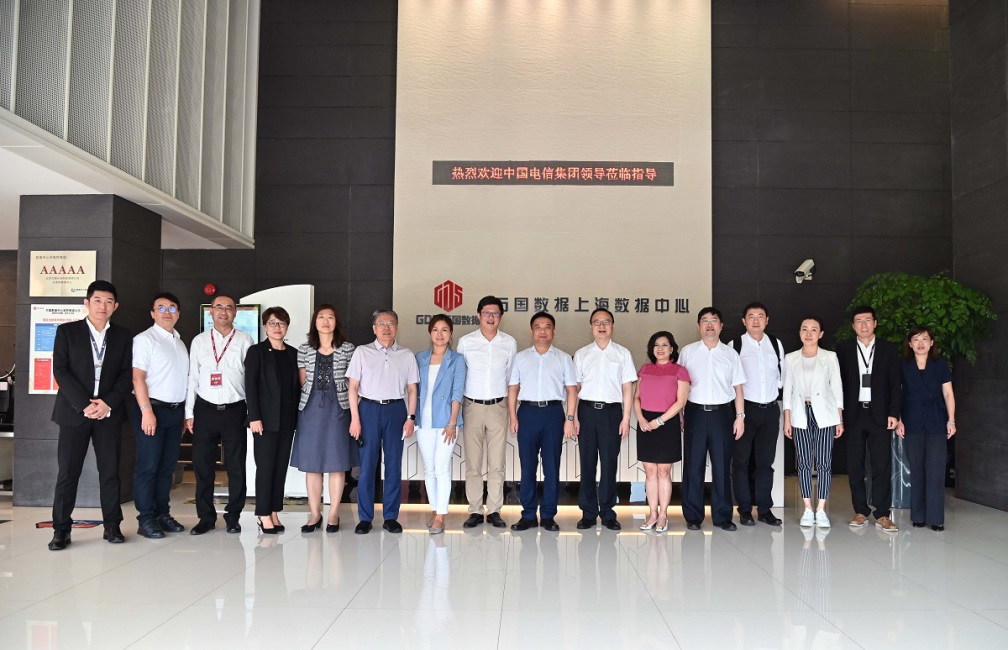 The advent of the New Infrastructure Construction and the constant evolution of technology architecture have generated more demand, highlighted the fundamental supporting role a data center can play, and created more potential and more opportunities in terms of data center-based cloud-network convergence and other models.
In response, China Telecom, which highly appreciates GDS's professional capability, experience and technology, has proposed a new development strategy centered around 2+4+31+X for cloud-network convergence resources. The partnership will accelerate the strategic cooperation between the two parties in areas such as resource sharing, cloud-network convergence, value chain ecosystem, technology innovation and international cooperation. Together they will strengthen market competitiveness and accelerate their coverage of four key geographical areas: Beijing-Tianjin-Hebei; the Yangtze Delta; Guangdong-Hong Hong-Macau; Shaanxi-Sichuan-Chongqing.
"We are very grateful for the long-term strong support that China Telecom, one of the most important partners of GDS, has given us over the years," says William Huang, Chairman and CEO of GDS. "And we look forward to working with them to engage in more strategic cooperation based on the existing partnership. In the cloud-network convergence area, the two parties can combine each other's strengths to build a platform and ecosystem and develop more competitive cloud network products and services. In the data center area, GDS also looks forward to synergy in a variety of data centers areas including strategy, design, building, operating, and product development. We will also engage in more innovative cooperation at the capital level to expand our investment in emerging application technologies such as 5G, cloud computing, big data, data centers, artificial intelligence, block chain and industrial internet."
After the meeting, Shao Guanglu and his group, accompanied by William Huang, also toured GDS Shanghai Waigaoqiao Data Center, where they once again emphasized their appreciation of GDS's professionalism and leadership position in the application of innovative technologies and operations management.
Following this high-level meeting, the two parties will further accelerate their strategic cooperation. On the GDS side, William Huang will coordinate all departments concerned to define details of the cooperation, while on the China Telecom side, Mr. Ma Yimin, Secretary of the Party Committee of China Telecom Shanghai, will lead their team to extend their full support and cooperation in an effort to achieve material progress as quickly as possible.
Safe Harbor Statement
This announcement contains forward-looking statements. These statements are made under the "safe harbor" provisions of the U.S. Private Securities Litigation Reform Act of 1995. These forward-looking statements can be identified by terminology such as "aim," "anticipate," "believe," "continue," "estimate," "expect," "future," "guidance," "intend," "is/are likely to," "may," "ongoing," "plan," "potential," "target," "will," and similar statements.
Among other things, statements that are not historical facts, including statements about GDS Holdings' beliefs and expectations regarding the growth of its businesses and its revenue for the full fiscal year, the business outlook and quotations from management in this announcement, and GDS Holdings' strategic and operational plans, are or contain forward looking statements. GDS Holdings may also make written or oral forward-looking statements in its periodic reports to the U.S. Securities and Exchange Commission (the "SEC") on Forms 20-F and 6-K, in its annual report to shareholders, in press releases and other written materials, and in oral statements made by its officers, directors or employees to third parties. Forward-looking statements involve inherent risks and uncertainties.
A number of factors could cause GDS Holdings' actual results or financial performance to differ materially from those contained in any forward-looking statement, including but not limited to the following: GDS Holdings' goals and strategies; GDS Holdings' future business development, financial condition and results of operations; the expected growth of the market for high performance data centers, data center solutions and related services in China; GDS Holdings' expectations regarding demand for and market acceptance of its high-performance data centers, data center solutions and related services; GDS Holdings' expectations regarding building, strengthening and maintaining its relationships with new and existing customers; the continued adoption of cloud computing and cloud service providers in China; risks and uncertainties associated with increased investments in GDS Holdings' business and new data center initiatives; risks and uncertainties associated with strategic acquisitions and investments; GDS Holdings' ability to maintain or grow its revenue or business; fluctuations in GDS Holdings' operating results; changes in laws, regulations and the regulatory environment that affect GDS Holdings' business operations; competition in GDS Holdings' industry in China; security breaches; power outages; and fluctuations in general economic and business conditions in China; globally, the impact of COVID-19 outbreak; and assumptions underlying or related to any of the foregoing.
Further information regarding these and other risks, uncertainties or factors is included in the GDS Holdings' filings with the SEC, including its annual report on form 20-F. All information provided in this press release is as of the date of this press release and is based on assumptions that GDS Holdings believes to be reasonable as of such date. GDS Holdings does not undertake any obligation to update any forward-looking statement, except as required under applicable law.