Press Releases
Committed to Long-Term Low-Carbon Operations, GDS Once Again Acquires Data Center Green Level AAAAA Certificate
The China Academy of Information and Communications Technology and the News and Communication Center of Ministry of Industry and Information Technology recently hosted the 2021 Conference for High-Quality Data Center Development. An important gathering that supports the data center industry's high-quality development, the conference invited dozens of prominent experts from the digital sector to deep dive into the critical role data centers play in economic and social development. GDS received two prestigious honors at the Conference: one data center project in Nantong acquired Data Center Green Level AAAAA Certificate, the highest level in the Operation/Infrastructure/Large Scale category; another data center in Beijing was granted a Computing Power N3 Computing Efficiency N4 rating in the Universal category.
Sustainable, high-quality development of data centers is a priority in China's 14th Five-Year Plan. The government strategy places higher demands on data centers' computing power, energy efficiency, networking, standards and systems, while also emphasizing upgrades in infrastructure sustainability to support low-carbon transformation of all industries. Amid this environment, the Data Center Green Level Assessment program (an authoritative indicator of conservation and environmental protection performance in the industry) rated data centers based on overall scores in energy efficiency, energy-saving technology, green management, and more importantly, innovative exploration and green infrastructure.
GDS data center in Nantong, recipient of Data Center Green Level AAAAA Certificate, meticulously manages its green and energy-conservation operation, including the operation of a high-temperature chilled water system. Combined with manual tuning, AI-based energy-efficient technologies have further reduced the average annual PUE (power usage effectiveness) by 0.005.
At the Low-Carbon Data Center Session, Yang Tao, Vice President at GDS, gave a keynote address on "GDS Long-Term Vision for Low-Carbon Practices", sharing GDS' low-carbon philosophy and practices in its data center operation.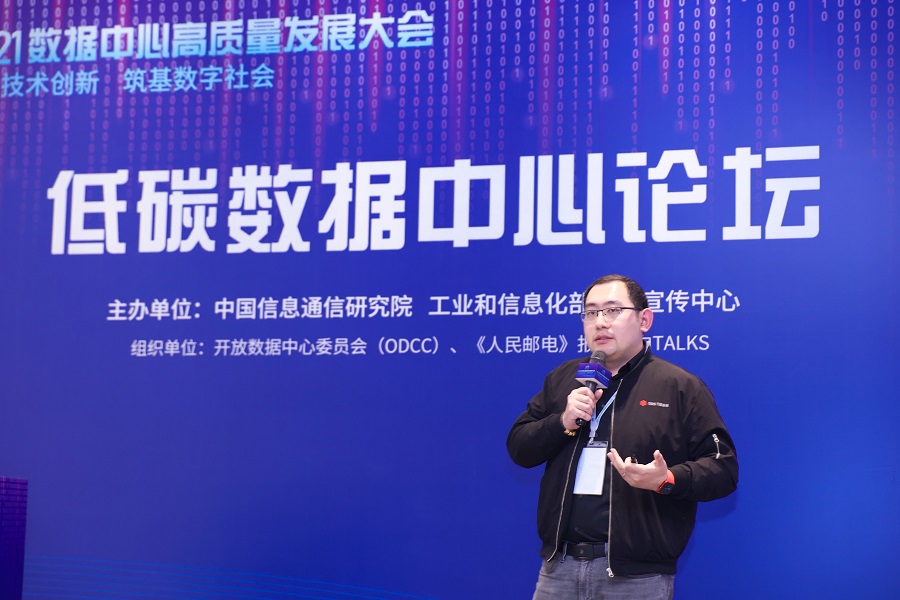 Yang said, "Since its foundation, GDS has remained committed to a long-term vision and consistently endeavored to explore low-carbon practices in the full life-cycle management of data centers. We work to identify the most effective energy-efficiency management approach and optimize power usage effectiveness. The approach must be sustainable, widely applicable and self-optimizable to be able to truly help us achieve a low-carbon future, driving sustainability in the data center industry."
Of the nine Data Center Green Level AAAAA Certificate in the Operations category certified by Ministry of Industry and Information Technology since 2014, five are GDS data centers. Based on the average PUE of the data center industry, GDS, through persistent efforts in energy efficiency and management, has reduced CO2 emissions by 1.237 million tons. Focused on its long-term vision, GDS will continue to build on its sustainability commitments and leverage innovative technologies to achieve energy conservation.