Press Releases
GDS Builds Next Generation Data Centers, Advancing Efforts to Achieve Full Lifecycle Smart Transformation
The 2021 High Quality Data Center Development Conference, organized by the China Academy of Information and Communications Technology and the Ministry of Industry and Information Technology's (MIIT) News and Communication Center, was recently held in Beijing. The event brought together dozens of prominent experts from the digital sector to deep dive into data center trends as they become a critical foundation that supports global economic and social development.
Yan Liang, Senior Vice President at GDS, attended the conference and gave a keynote speech "How Far are We from Next Generation Smart Data Centers?" According to Yan Liang, over the past few years, GDS has been putting efforts to smart operations and digital design platforms, rising to data center industry challenges of fast scale, growth, and delivery. These efforts aim to boost the sector's high-quality development by constantly iterating and innovating data centers' full lifecycle digital management.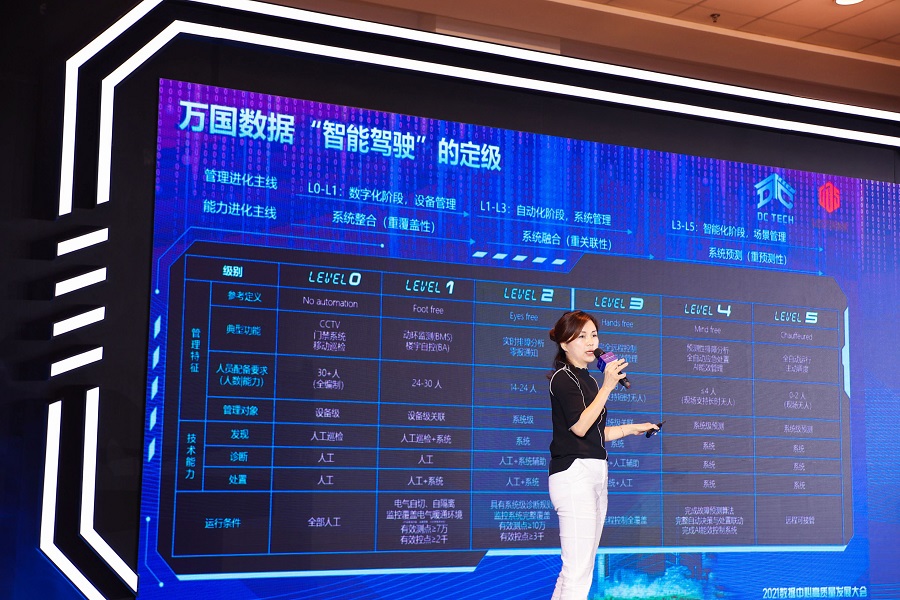 GDS is aiming to build Smart DCs (next generation data centers) to meet customer needs for digitally driven business resilience, agile delivery, and smart takeover and maintenance. GDS is employing its smart modules to enhance data center capabilities in digital construction, automated takeover and maintenance, and smart operation as it works towards achieving full lifecycle smart transformation.
"The digital economy is not only listed as a major development priority in China's 14th Five-Year Plan, but also an engine driving this market's growth," said Yan Liang. "As the foundation of the digital economy, data centers are being presented with new opportunities, and smart transformation is a future trend for data centers. I'm proud that GDS has not only found a new direction for development in the digital economy environment, but also reached significant milestones. Moving forward, GDS will spearhead the industry's high-quality development by driving the full lifecycle smart transformation of next generation data centers."