Press Releases
GDS Receives Eight Awards Including Green Level AAAAA and Zero Carbon Recognitions at 2021 ODCC Summit
The 2021 Open Data Center Summit was recently held in Beijing by the Open Data Center Committee (ODCC). At the summit's awards ceremony, GDS was recognized with eight awards for its accomplishments in a broad range of areas, from environmental and low carbon performance to computing power, computing efficiency, service capability and intelligent operations.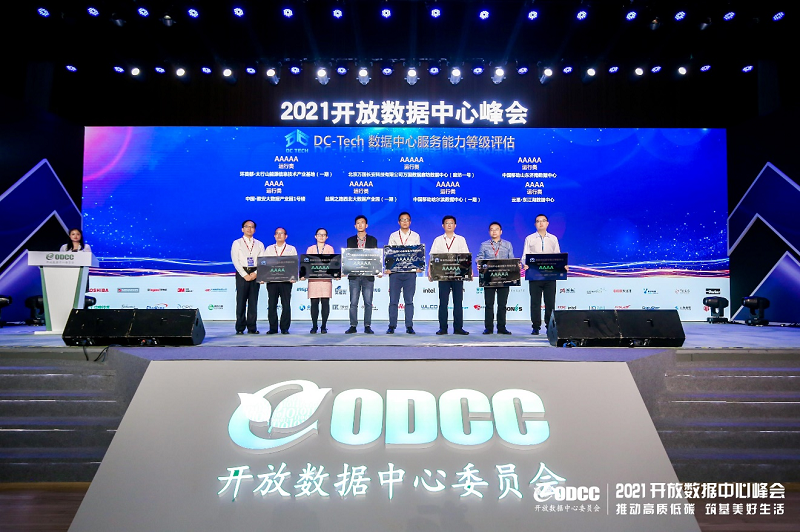 Setting New Green Benchmarks: GDS BJ6 and BJ11
Green development has always been a priority for data center industry. With industry-leading performance on a number of indicators, including PUE (power usage effectiveness), emissions reduction and use of renewable energies, BJ6 and BJ11 both received Data Center Green Level (Operation/Infrastructure/Large Scale) AAAAA rating due to a PUE of 1.25 and 1.237 respectively over the past year, as well as estimated full-year carbon emission reductions of over 2,200 tons.
Practicing Low-Carbon Development: GDS CD1 and SH3
Guided by China's Dual Carbon goals (peak carbon dioxide emissions before 2030 and achieve carbon neutrality before 2060), data center industry has recently been exploring how to rapidly reduce carbon emissions. CD1 achieved a 100% green energy usage rate by using hydropower; and SH3 optimized its CUE (Carbon Usage Effectiveness) to 0.414 over the past year by switching to hydropower and installing its own solar power generation system. In addition, by taking advantage of innovative technologies such as waste heat recovery and AI, the two data centers have substantially reduced carbon emissions, earning the honorable recognition of Zero Carbon Data Center Leader and Zero Carbon Data Center Innovator respectively.
Improving Computing Power and Computing Efficiency: GDS SH2
The Three-Year Action Plan for the Development of New Data Centers, released by the Ministry of Industry and Information Technology of China, proposes accelerating the upgrade of data centers' computing power and computing efficiency. Supporting this plan with both high computing performance and high-power efficiency from approx. 3,000 X86 CPU-based servers mainly in its #4 Server Room, SH2 was awarded with Data Center Computing Power N3 and Computing Efficiency N4 ratings.
Assuring Reliability and Service: GDS LF1
As data centers aim to be more reliable, with stable operations and efficient, timely maintenance, LF1 was once again recognized for its contribution with two AAAAA ratings in reliability and service capability assessments respectively for its outstanding reliability and operations & maintenance assurance. LF1 strongly supports the integrated development of the Beijing, Tianjin and Hebei region.
Intelligent Operations: GDS BJ4
With contributions from GDS, "Data Center Intelligent Driving Standards – Intelligent Operations" was also released at the summit. Comparable to autonomous-driving classifications for the smart car industry, the Standards have placed enormous demands on intelligent operations of data centers. As a result of its unparalleled strength in intelligent operations and software-hardware collaboration, BJ4 has set the bar for the industry by becoming the first data center in China to receive the Data Center Intelligent Operation Level Assessment - Intelligent Operation Level 3 Rating.