Press Releases
GDS Builds a Hybrid IT Infrastructure Based on "Triple Interconnection" to Accelerate Enterprises' Digital Transformation
GDS, as the sole data center service provider showing in the event, attended IDC DX Summit 2021 hosted by IDC Consulting in Shanghai. Feng Liang, Director of GDS Cloud Business Unit, delivered a speech entitled "Hybrid Multi-Cloud and On-Prem Combined IT infrastructure for All Users" at the main forum.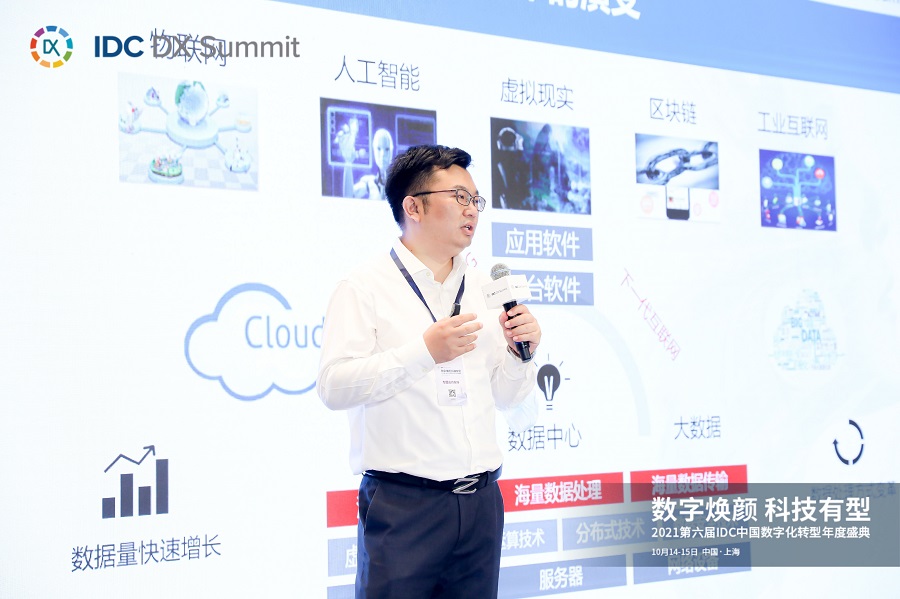 Feng shared how GDS is aligning with a growing trend towards digital transformation and hybrid cloud. GDS leverages high-performance data center clusters, and cloud and network resources, to achieve "triple interconnection" – multi-data center, multi-cloud & near-cloud, and Internet connections. This delivers a complete suite of solutions to customers that meet the needs of all kinds of applications.
IDC forecasted that by 2024, the development of digital economy will give birth to over 500 million new applications/services, equivalent to the sum of all applications created over the past 40 years. And 65% of the world's total GDP will be driven by "digital", which means that it is absolutely critical for both traditional and innovative businesses to adopt a strategy that prioritizes digital. With business challenges growing increasingly complex and diversified, digital transformation will generate a massive amount of data. As the core of future digital infrastructure, data will need an IT infrastructure that provides comprehensive support. IDC believes future digital infrastructure will be multi-cloud oriented, ubiquitous, intelligent, and autonomous.
IDC's point of view coincides with GDS insights and outlooks. As an important part of IT infrastructure, data centers are evolving, driven by the introduction of ever more new technologies. With hybrid clouds becoming a preferred option for an increasingly larger number of companies, data centers are striving to become smarter while needing "Triple Interconnection" capability.
With this multi-datacenter, multi-cloud & near-cloud, and Internet connectivity, GDS data centers can effectively support its customers' digital transformation by achieving an infrastructure that is smart, autonomous, hybrid cloud-oriented, and ubiquitous for any situation.
Based on these, GDS has been able to provide customized solutions including all-connecting network resources & services, IT solutions & cloud products, near-cloud managed services, multi-cloud integrated IT infrastructure solutions, nationwide multi-site cloud data center cluster solutions, and finance-standard hybrid IT infrastructure solutions. With their successful adoption in a wide range of industries – including automotive, FMCG, pharmaceutical, and financial institutions – GDS will continue to support customers digital transformation.