Press Releases
GDS Attends 2021 SingCham Sustainability Forum, Exploring Path "From Decarbonization to Carbon Neutrality"
On December 13 2021, GDS attended 2021 SingCham Shanghai Sustainability Forum, exploring the theme "Path From Decarbonization to Carbon Neutrality". GDS joined with experts from Chinese Academy of Engineering and Enterprise Singapore as well as industry leaders to deep dive into topics centered around green and sustainable development.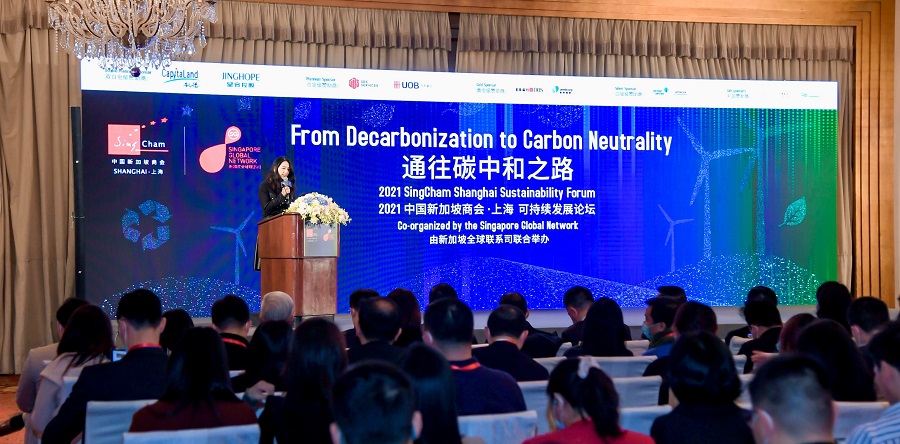 Achieving 2030 carbon-neutrality targets through a multi-pronged approach and internal & external synergy
Amid the context of China's dual carbon goals (peak carbon emissions and carbon neutrality), the data center industry is on track to maintain rapid growth over the next 10 years, but heavy energy consumption has made achieving the carbon neutral goal a major challenge. With this in mind, Chen Jiangping, Senior Vice President at GDS, gave a speech entitled "GDS Carbon Neutral Strategy and Practices" at the forum to shed light on the company's practice in strategy, overseas expansion, technology innovation and ecosystem development, aimed at fulfilling its commitment to achieve 100% renewable energy use and carbon neutrality by 2030.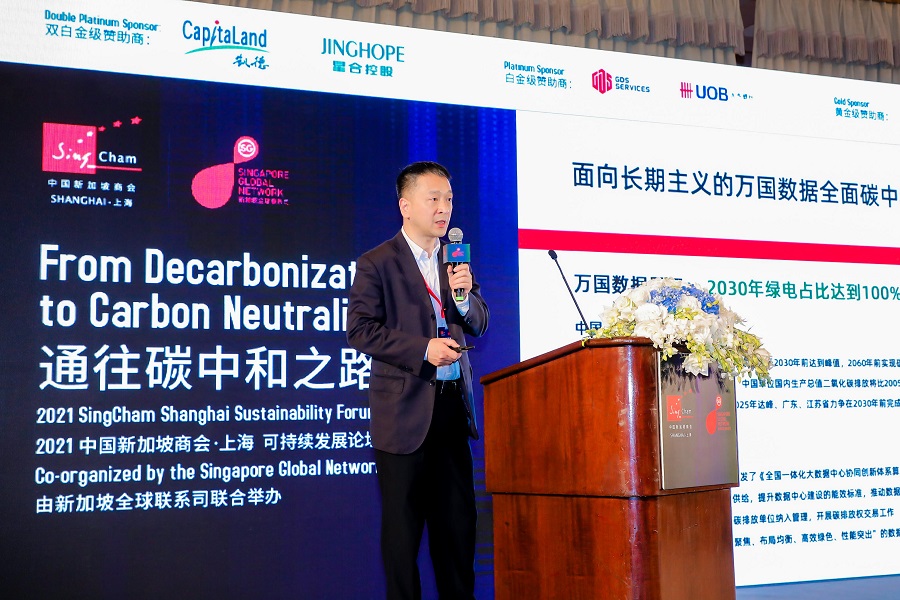 Chen Jiangping, Senior Vice President at GDS
"It is difficult for data centers to achieve sustainable development through a single carbon-reduction method," said Chen. "We believe carbon-neutrality can only be achieved through a combination of the following three approaches:
· Optimize PUE to as close to 1 as possible by leveraging new technologies and optimizing operational efficiency to improve energy efficiency.
· Reduce CUE to 0 by strengthening energy conservation and emission reduction as well as participating energy investment and green electricity (certificates) trading.
· Enhance overall energy utilization efficiency by improving the multidimensional integration of data centers with urban energy systems."
Based on the above approaches, GDS estimates to achieve its goal of increasing renewable energy usage proportion to 30% while saving 660 million kwh of electricity and reducing carbon emissions by 400,000 tons in 2021, on track to meet its target of 100% renewable energy consumption by 2030.
At the panel session, Pan Zhou, Dual Carbon Solutions Expert at GDS, shared his insights on data centers achieving carbon-neutrality from energy supply side, energy consumption side and energy offset side.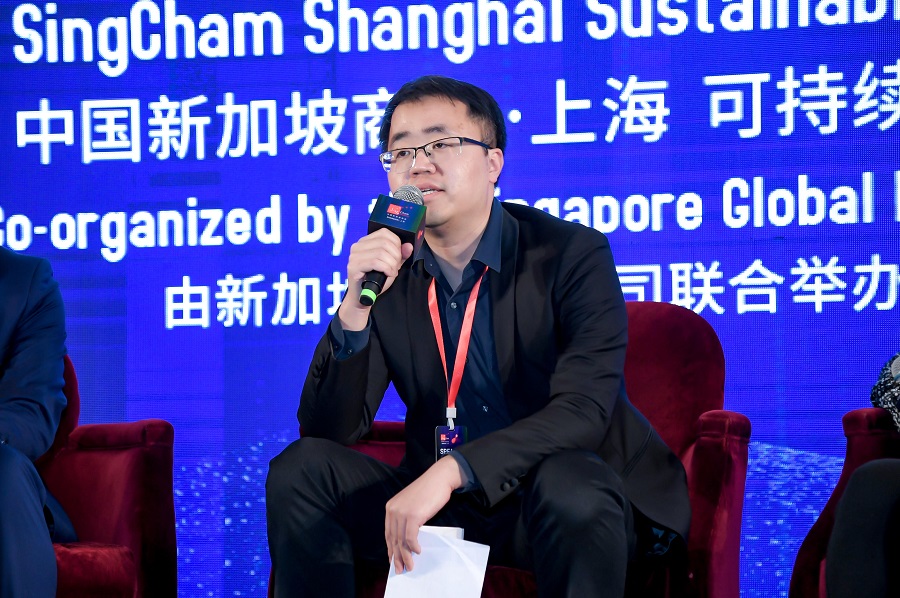 Pan Zhou, Dual Carbon Solutions Expert at GDS
"Carbon neutrality at the corporate level is a balancing and planning process in the context of cost premiums, carbon neutral results and degrees of entity recognition," said Pan. "Enterprises need to continuously optimize their energy mix in supply, improve energy efficiency in their consumption, and actively execute a carbon offset strategy to achieve carbon neutrality based on a diverse combination of the three approaches."
Seizing digital opportunities in Southeast Asia to launch overseas expansion plan
While pursuing green and low-carbon development, GDS has also been consistently expanding and improving its market presence, positioning data centers as a platform strategy. The company launched its overseas expansion plan this year, with Southeast Asia selected as the first stop.
According to Chen, with mature regional hubs represented by Singapore, Southeast Asia has become one of the markets with the most potential in its digital economy. Its unique environmental, policy and geographical advantages have attracted the attention of many Chinese and international companies, resulting in huge demand for data centers, supporting GDS to expand to the region.
With construction of hyperscale data center campuses in Nusajaya Tech Park, Johor Bahru, Malaysia and Nongsa Digital Park, Batam, Indonesia, GDS will soon be able to provide enterprise customers with complete solutions from IT infrastructure to network access in Southeast Asia based on its existing platform advantage and close partnerships with local carriers. GDS will also achieve interconnectivity centered around Singapore to form a unique ecosystem and data center platform.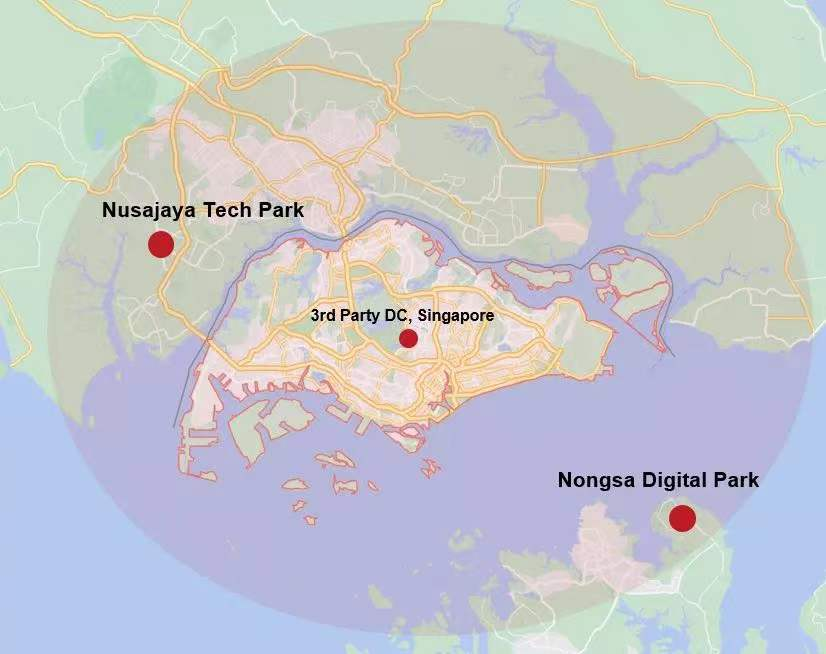 Earlier this year, Singapore Government announced "Singapore Plus" strategy, aiming to inspire synergy among Southeast Asian countries and create a new regional landscape by taking advantage of resources and complementing the strengths of neighboring countries. As the first data center company featured in the "Singapore Plus" strategy, GDS will participate substantially in its implementation to contribute to the development of the regional digital economy and ecosystem.