Our Insights
Eight GDS Data Centers Receive LEED Gold Certification by Benchmarking Against Global Green Building Standards
In 2021, GDS announced its vision for "Connecting a Smart Infrastructure Platform to a Sustainable Future" in its inaugural ESG report and declared its commitment to achieve 100% renewable energy usage and carbon neutrality by 2030.
Building green data centers is a major approach to achieve the company's goals. In 2020, 25% of GDS self-developed data centers newly in service have received, or are applying for green building certification.
In keeping with its mission to build more green data centers, in 2021, GDS received LEED Gold Certification for eight of its data centers in Beijing, Shanghai, and Langfang, upping its number of LEED-certified data centers to 11 by the year's end.
A selection of LEED Data Center Certificates
As one of the most widely recognized green building certifications in the world, LEED (Leadership in Energy and Environmental Design) certification signifies outstanding performance in energy and water conservation, as well as carbon-emission reduction. Due to persistent efforts in green design and construction, green operation, and full life-cycle carbon emission management, GDS received eight more LEED Gold Certified data centers in 2021.
Green design and construction
GDS developed a design and construction manual in accordance with LEED green building certification requirements. The manual defines a range of green strategies tailor-made for data centers, including efficient heating, ventilation, air conditioning, and power distribution systems, intelligent control system, soil and water loss control during construction, and construction waste management. In addition, GDS succeeded in reducing environmental pollution by retrofitting existing buildings wherever possible.
The implementation of these diverse green strategies has proved pivotal in GDS LEED-certified data centers. In the future, GDS will continue to leverage its experience to develop green data centers and seek opportunities to apply new green technologies.
Green operation
GDS has built a professional data center operation system that is compliant with LEED's fundamental & enhanced commissioning requirements, ensuring stable and efficient data center operations.
In terms of driving energy conservation and green operations while reducing resource consumption, GDS employs intelligent and innovative technologies to establish comprehensive energy and water management system. Based on ISO50001 standards, the system monitors and improves data centers' PUE and WUE. With a cross-regional energy management team supervising system operations and performance, GDS is leveraging smart systems and manuals to achieve lean management at the same time.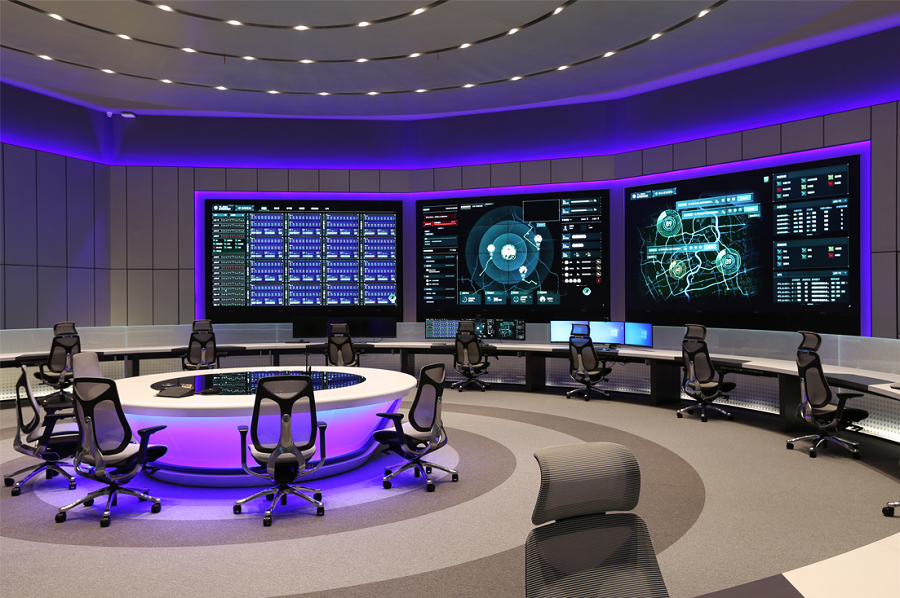 GDS Global Operation Command Center (GOCC)
Full life-cycle carbon emission management
GDS aims to achieve its strategic ESG goal of "Minimizing Environmental Impact" by establishing a full life-cycle carbon emission management system for data center construction in line with LEED certification requirements. Starting as early as the design stage, GDS takes into account every aspect of a data center's full life-cycle carbon emissions to ensure optimal solutions.
Green building supports GDS 2030 carbon neutrality goals
Going forward, all new GDS data centers will be designed and constructed based on green building standards, laying a strong foundation for GDS green target of achieving carbon neutrality by 2030 and leading the industry towards a more sustainable future.