Press Releases
GDS Wins EY Sustainability Excellence Awards 2022 – Best Practice/Case
On 18 November, EY Greater China region (EY) announced the winners of Sustainability Excellence Awards 2022 at the inaugural EY CSO Forum. In recognition of the company's strategic planning for carbon neutrality and efforts to boost sustainability, GDS received the Excellence Awards in Best Practice/ Case category.
Following the prudent assessment of an independent judging panel of leading experts, scholars, entrepreneurs and institutional investors, GDS earned the award based on the latest sustainable development evaluation systems and global ESG standards.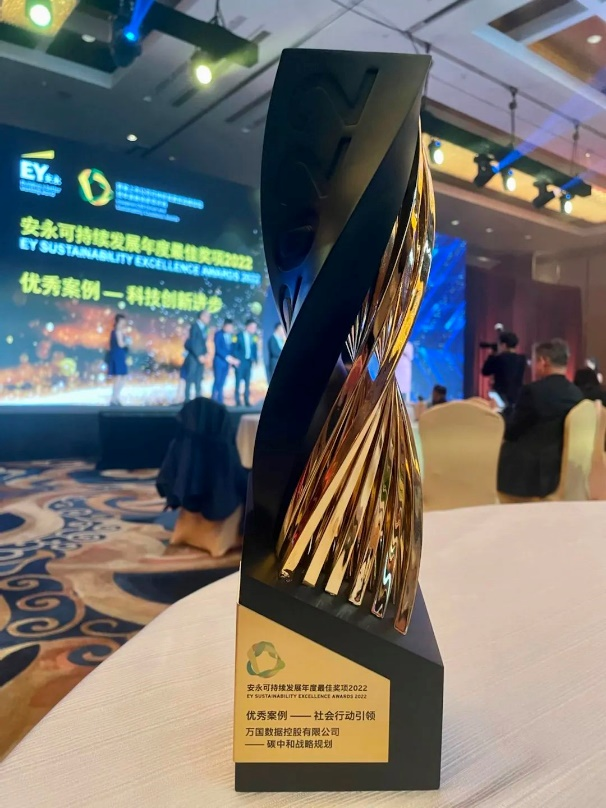 At the awards ceremony, an EY representative commented:
GDS is the largest carrier-neutral data center operator in China. As the foundation of the digital economy, data centers are an important component of the industry's efforts to conserve energy and reduce its carbon footprint. As the industry leader, GDS has always been committed to leading the industry to jointly build a sustainable future.
GDS systematically analyzed the current status and future development of renewable energy in China. Based on this, GDS developed a thorough renewable energy strategy that comprehensively address how to supply data centers with renewable energy. Solutions include green power trading, green certificates, green power investment, on-site photovoltaic systems and the application of new technologies, including hydrogen energy. GDS is also expanding its carbon emission management to cover the whole lifecycle of data centers, from design and construction through to operations.
In 2021, GDS released its inaugural ESG report to announce its vision "Connecting a Smart Infrastructure Platform to a Sustainable Future", becoming the first data center operator in China to commit to achieving 100% use of renewable energy and carbon neutrality by 2030.
GDS has incorporated its sustainable development commitment into every aspect of its operations. Guided by China's dual carbon strategy, GDS is steadily progressing towards its Zero Carbon vision, and leading the sustainable development of the industry through a variety of initiatives.
The award represents a positive recognition of the sustainable development strategy of GDS. Going forward, GDS will continue to explore and strengthen collaboration to advance the low-carbon and sustainable growth of the data center industry.